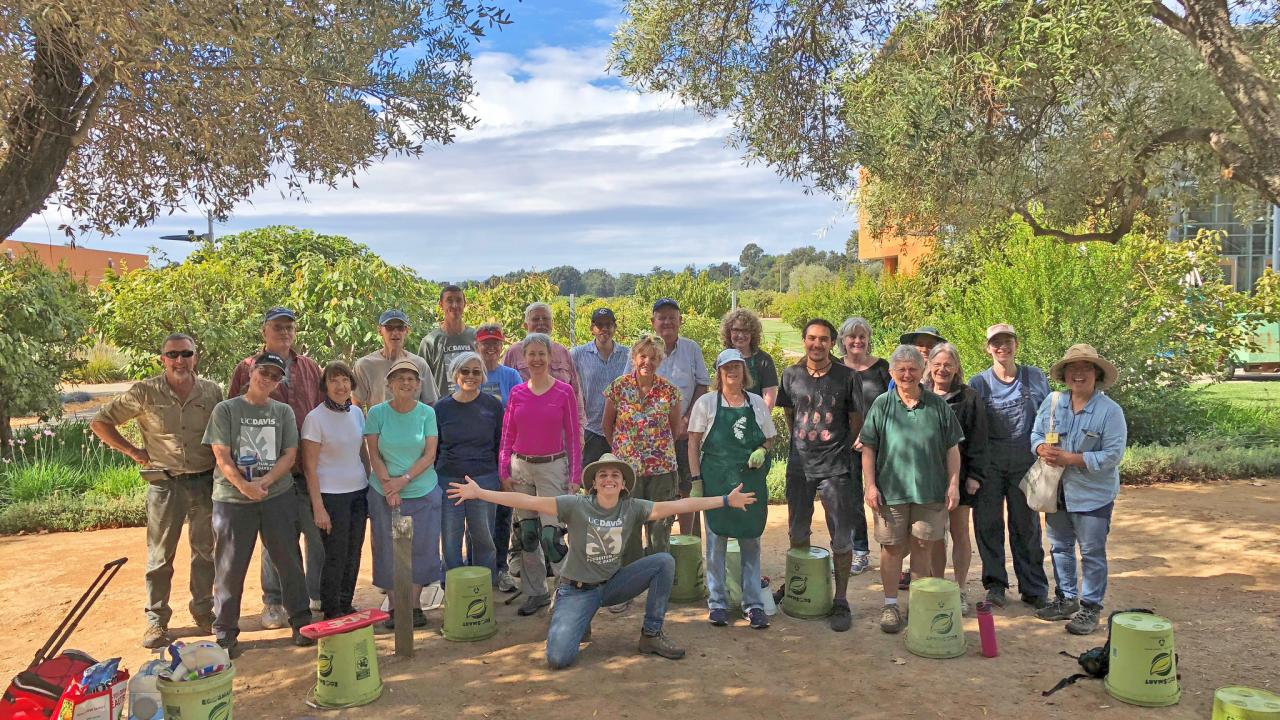 Volunteer with the Arboretum and Public Garden!
Do you enjoy being outside?

Would you like to learn new skills?

Are you looking for a way to give back to the community?
Consider volunteering with the UC Davis Arboretum and Public Garden! It's a rewarding place to spend your time with lots of team camaraderie and learning. Learn more.
In 2020, we are seeking new volunteers to join our gardening, land stewardship and plant sale support volunteer teams. Trainings will be offered in winter and include a combination of expert instruction and hands-on projects. There will be a $20 materials fee due at your team's first scheduled training date.
Applications are due by January 17, 2020.
What is the time commitment?
Training for gardening volunteers takes place on Thursdays from 9am – 12pm,  Jan. 30 – Mar. 5.  During these sessions, participants learn about plant care from professional horticultural staff. Afterwards, teams meet weekly, one weekday a morning, for 3 hours.  
---
Which volunteer teams are recruiting?
Gardening Volunteers work in weekly teams on Tuesday, Wednesday, Thursday, or Friday mornings to help maintain and beautify Arboretum and Public Garden landscapes.  Each team focuses on a different area; volunteers work in collaboration with horticultural staff. Training topics will include herbaceous perennial and ornamental grass maintenance, weed management, planting, pruning, tool care, plant id and nomenclature, and landscape safety in a public garden.
Training dates: Thursdays, January 30-March 5, 9 am–12 pm.
---
Land Stewardship Volunteers work on campus naturalized lands with staff on Tuesday, Wednesday or Thursday mornings. Projects include light construction, trail repair, native plant care, weed control, and a variety of equipment and power tool operation.
Training dates: last week in January (exact days TBD), 9 am–12 pm.
---
Plant Sale Support Volunteers work as a team to support our big Arboretum plant sales that happen seven Saturday mornings each year (four sales in spring and three sales in fall). The team also supports occasional smaller weekday sales for specialized groups. Team responsibilities include overseeing plant counting and cashier teams at our weekend sales and handling all customer service activities for our weekday sales. The team meets only as needed to prepare for and work during these sales. If you love organizing, have good attention to detail, enjoy interacting with customers and other volunteers and you are comfortable handling sales transactions, this would be a great team for you. Please note that a background check will be required.
General Orientation: Thursday, January 30, 9 am- 12 pm. Additional specialized training to be scheduled based on team member availability.
Space is limited. Applications are due Friday, January 17, 2020.
If you have questions, please contact Roxanne Loe at (530) 752-4880 or rgloe@ucdavis.edu.
Category
Tags