Waterway Stewardship
Become a Waterway Stewardship Intern and take part in an exciting opportunity to be a part of a major campus investment to renew the Arboretum Waterway. The goals of the internship are to benefit water quality, riparian habitat, campus research, and the community. 
Interns will become familiar with land and water management concepts of sustainable environmental design, storm water management, and native habitat restoration in an urban setting. Thinking globally and acting locally, this team will consider the many ways water is essential to life and how we can improve the quality and quantity of water available. 
As a project-oriented internship, interns will gain skills that foster teamwork and leadership while contributing to student-led projects that explore water quality, create connections to nature, and support research and community education. 
Weekly online meetings will support interns in developing and completing projects as well as connect to a learning and leadership community. 
Quarters:  Winter and Spring 
Schedule: 3 hours/week 
Units: 1 unit/quarter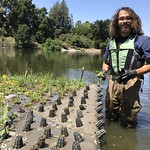 Waterway Stewardship Projects
Click here to learn more about the types of projects Learning by Leading™ Waterway Stewardship students lead.