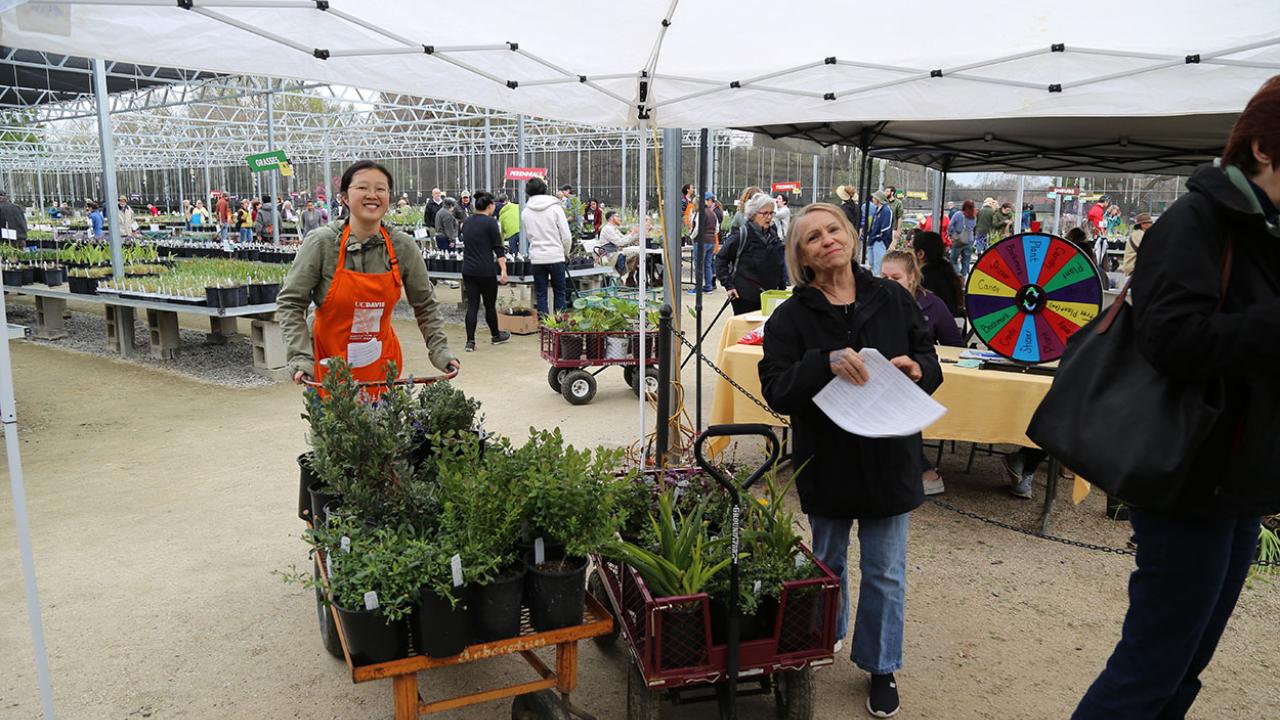 Thanks to last week's rain and the first-ever postponement of an Arboretum plant sale, customers at this Saturday's sale will receive a literal raincheck – a $10-value coupon.
"In the 45 plus years we've been putting on these plant sale fundraisers, they've always been rain or shine, we've never had to postpone one, but there's a first time for everything," says Taylor Lewis, nursery manager.
"The date change was a big disappointment for many and probably a relief to others, but regardless, we want to make it up to those who are able to attend this Saturday instead."
At checkout customers will receive a $10-value coupon good for almost everything in the one-acre nursery except a small inventory sold by the Davis Botanical Society, a plant sale partner that offers exotic bulbs, indoor and carnivorous plants, succulents and more.
"We heavily debated making this change," says Carmia Feldman, assistant director at the UC Davis Arboretum and Public Garden.
"We just couldn't put the hundreds of student and community volunteers, not to mention our customers, through what we knew would be a miserable mess. It was a big risk because these sales help provide the funds to care for our gardens and free public programs. We hope the raincheck, good this sale only, will entice people to attend."
According to Lewis, the nursery is back in shape, as are the over 15,000 plants.
"The irony of having to postpone a plant sale that offers one of the area's largest selections of low-water plants perfect for our region due to rain, is not lost on me!," says Lewis. "This Saturday's weather will be more like what we are used to, sunny and dry."
Shop the Friends of the UC Davis Arboretum and Public Garden plant sale this Saturday, April 14 from 9 a.m. – 1 p.m. at the Arboretum Teaching Nursery located on Garrod Drive across from the Vet Med Teaching Hospital.
Category
Tags