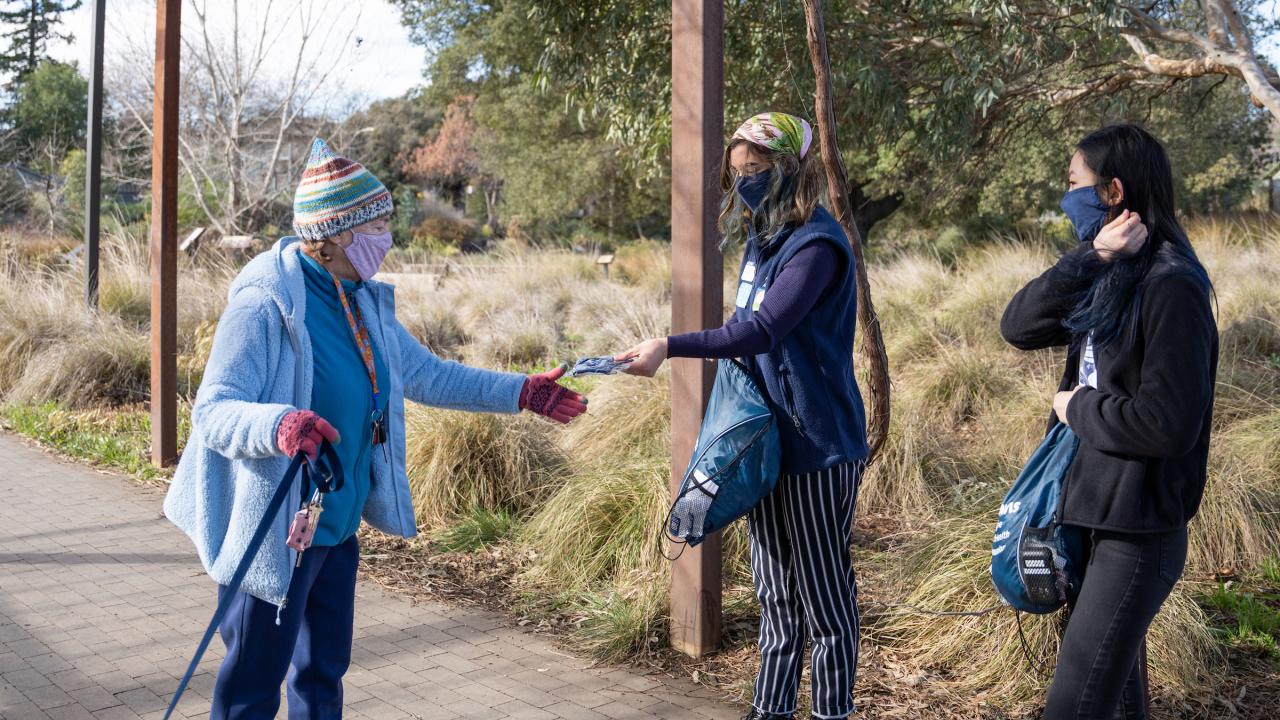 The UC Davis Arboretum and Public Garden is partnering with the Aggie Public Health Ambassador (APHA) program to further promote safety, community, and well-being through education on and encouragement of COVID-safe health behaviors in the Arboretum such as face cover wearing, hand sanitation, and physical distancing.
Throughout the pandemic, the Arboretum proper has seen a notable increase in visitors as many cherish it as a place to unwind, connect to nature, engage safely with friends, exercise, and experience the benefits of nature on mental health during this difficult time. In an effort to continue the Arboretum and Public Garden's commitment to creating and communicating safe guidelines and practices, the APHAs hope to provide a positive and reassuring presence that protects community health by allowing for a continued understanding of the importance of face coverings and public health guidelines in open-air spaces.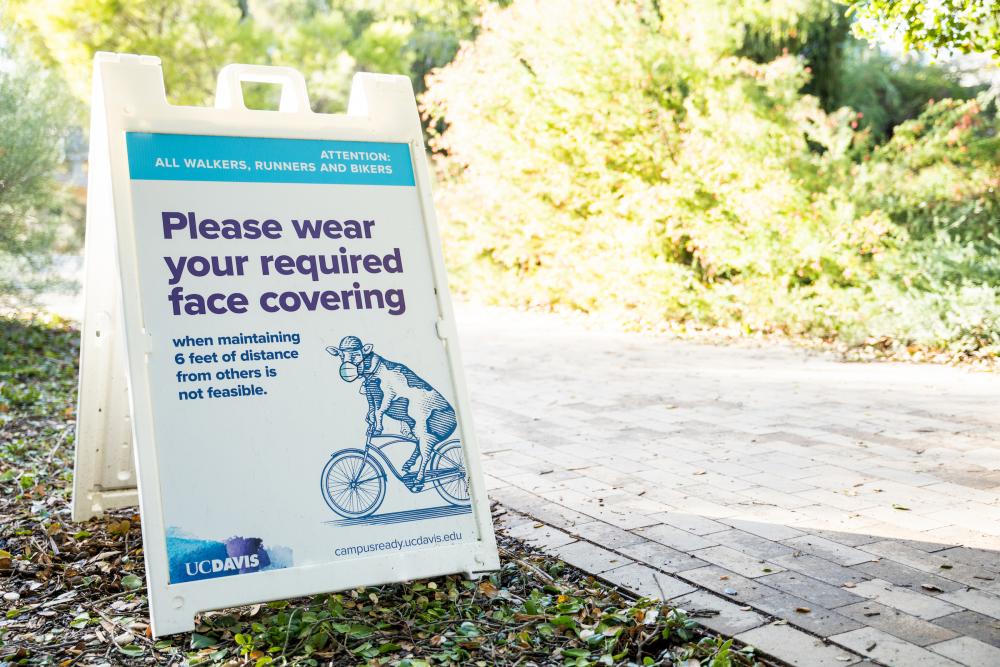 The ambassadors work in pairs in "floating shifts'' dispersed near entrances throughout the Arboretum to perform a variety of tasks which include handing out free face coverings while instructing on their proper use (with both nose and mouth covered), identifying hand washing stations, ensuring physical distancing, and offering healthy tips. With information on testing sites and their locations, the APHAs will encourage UC Davis-affiliated individuals to get tested on campus and community members to get tested at one of the Healthy Davis Together COVID testing sites. The APHAs are also prepared to answer additional visitor questions about testing sites, following proper public health protocols, and information on reducing COVID-19 transmission.
As another way the Arboretum and Public Garden is further implementing measures to guarantee enjoyable and safe experiences, the APHAs receive extensive training, encompassing public health and safety guidelines in outdoor spaces.
Health Promotion Specialist of the program, Alexis Calinawan, elaborates, "The APHA canvas training curriculum focuses on public health sciences with an emphasis on the epidemiology of COVID-19 and how public health translates science to protect the health of the community through testing and health promotion. In addition to online training modules, APHAs have live Zoom trainings on how to approach and engage with visitors in a positive way that encourages healthy behaviors and strengthens community member connections."
The APHAs working in the Arboretum also receive supplemental training from Arboretum and Public Garden staff tailored to enhance the Arboretum experience. As a result, APHAs will be able to provide more information on visitor amenities as well as how visitors can make the most of their visit, ideas for physically distanced activities, and a few fun facts about the collections that they're working in and other seasonal highlights. There is also a planned partnership between the APHAs and the Arboretum and Public Garden's Learning by Leading™ interns to share knowledge and training.
Together the Arboretum and Public Garden and APHAs hope to add a new layer of safety and adherence to public health guidelines with an emphasis on community engagement and shared responsibility so that the Arboretum remains a safe place for all visitors. So next time you visit the Arboretum, feel free to exchange a friendly hello or pick up a free face covering from the wonderful ambassadors working.
Category
Tags