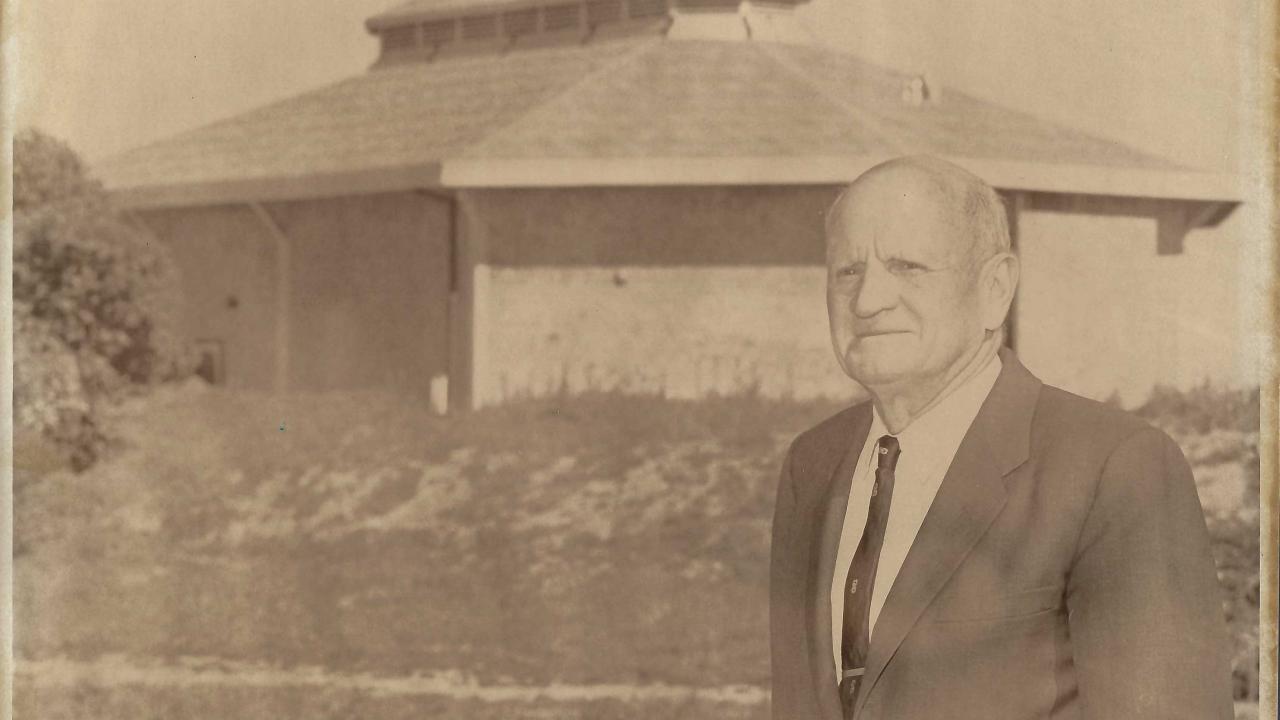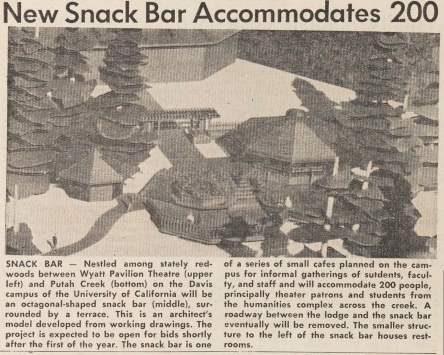 On the south side of Lake Spafford, nestled among heritage trees and a sprawling California buckeye, sits a unique, multi-tiered deck constructed from redwood to honor the grove nearby. The open-air location, enjoyed by thousands every year, retains a history with an extended local family – the Unger-Yackzan family. This family's fondness for the campus, and especially their uncle Fred Wyatt, inspired them to donate a generous lead challenge gift for the Arboretum and Public Garden's "All Welcome on Wyatt Deck" campaign for the revitalization of Wyatt Deck.
Fred Wyatt, the namesake of Wyatt Deck (known as Wyatt Snack Bar when it first opened), had a relatively brief, but very impactful career at UC Davis not as faculty, nor as staff, but as a volunteer! For thirteen years after his retirement as an executive with Gerber Products Company, Wyatt was appointed gifts and endowments officer and assistant to Chancellor Emil Mrak. Not surprisingly, for those who knew of his warmth and generosity, he also funded university projects near and dear to his heart.
For example, it was in preparation for the 400th anniversary of Shakespeare's birth when Wyatt and others donated to move what we now call Wyatt Pavilion from the area where it sat – the area of Rock Hall (aka Chem 194) – to its current location on Arboretum Drive, just south of Wyatt Deck. With this move, the building went from a livestock judging arena to an Elizabethan theatre designed for the presentation of plays as they were performed in Shakespeare's day. Wyatt generated a win-win for the university by championing moving the facility and creating another purpose for it that expanded arts opportunities for students and the community while preserving the campus's agricultural history.
After the relocation of Wyatt Pavilion came development of Wyatt Snack Bar (now known as Wyatt Deck) – built as a result of rapid university expansion on south campus, increasing university enrollment and the numbers of hungry students! When it opened in March of 1967, the location could accommodate 200 and served a menu of everything from soft drinks and cold sandwiches to hamburgers and milkshakes. Later, in 1979, it was home to Creek Crêperie.
Although construction of Wyatt Deck was primarily funded by student incidental fees, Fred Wyatt, together with his sister Velma Wyatt Unger, donated to this project as well. As for the deck's creative design, it was the brainchild of local architect Dean Unger – Wyatt's nephew – whose prominent career included the Veterans' Memorial Center in Davis, the Yolo County Administration Center in Woodland, the UC Davis Faculty Club, as well as the remodeling of the Wyatt Pavilion into a theatre.
Check back throughout our "All Welcome on Wyatt Deck" campaign for more history of Wyatt Deck, its connections with the Unger-Yackzan family, its impact on the community and stories from people who have loved Wyatt Deck. Do you have a story about Wyatt Deck? Share it via our Arboretum Memories portal found on our website.
Category
Tags